Environmental Data Science Summit

An annual summit to build the environmental data science community
Environmental Data Science (EDS) is a rapidly expanding, interdisciplinary field. As our community grows, there is a need to bring together all types of environmental data scientists to build a foundation for cohesive and effective collaboration. 
Through the annual EDS summit, we bring 100 environmental data science community members to Santa Barbara, CA for a two day "un-conference" event. A new summit theme is voted on by members of the EDS community each year. Funding (including travel, fees, and lodging) is covered for up to 60 participants. Attendance is open to EDS practitioners from any sector, discipline, background, or career stage. If you use data to ask questions about our environment and how we interact with it, then the EDS summit is for you. See below for more details on the summit, including annual themes and applications to register.
Applications for the 2024 Environmental Data Science Summit are now closed.
Summit Themes
Best practices for effective and inclusive communication
What tools and strategies can our community use in the next five years to improve our communication and translation of environmental data to broad and diverse audiences?
The 2024 EDS Summit theme will center around the above question, providing participants time and space to explore our current practices in communicating and translating environmental data. This may include, for example, the technical side of data communication, such as innovations in tools for data visualization. It may also cover pedagogy, such as best practices in strategic science communication, or synergies with journalism and storytelling. We hope this year's theme builds on the 2023 EDS Summit – we recognize that equity and justice are potentially powerful outcomes of improving our communication around environmental data science problems, processes, and solutions.
Applications for 2024 are now closed.
2024 Steering Committee:
Ben Halpern | Elizabeth Wolkovich | Noam Ross | Amanda Whitmire | Susan Shingledecker | Dawn Wright | Dorris Scott | Leah Wasser
Identifying small steps to make big shifts
How might we, as a research and engagement community, work together to advance diversity, equity, inclusion, and justice in environmental data science over the next five years?
The 2023 EDS Summit was organized around the question above, challenging individuals and groups to think deeply about barriers and identify concrete steps that could be taken on short time scales to create meaningful changes. These reflections relied on deep collaboration among diverse members of the environmental data science community: from graduate students to research center directors, communicators to postdocs, librarians to industry scientists - all perspectives are critical in advancing the field. By the end of the two-day conference, the 100 participants coalesced on ten ideas, forming focus groups that are still actively working on achieving their desired outcomes.
Still curious? Read one participant's take on the summit and see the 2023 Summit schedule.
2023 Steering Committee:
Ben Halpern | Elizabeth Wolkovich | Noam Ross | Wendy Guan | Amanda Whitmire | Susan Shingledecker | Dawn Wright | Dorris Scott | Leah Wasser
Broadening participation in Environmental Data Science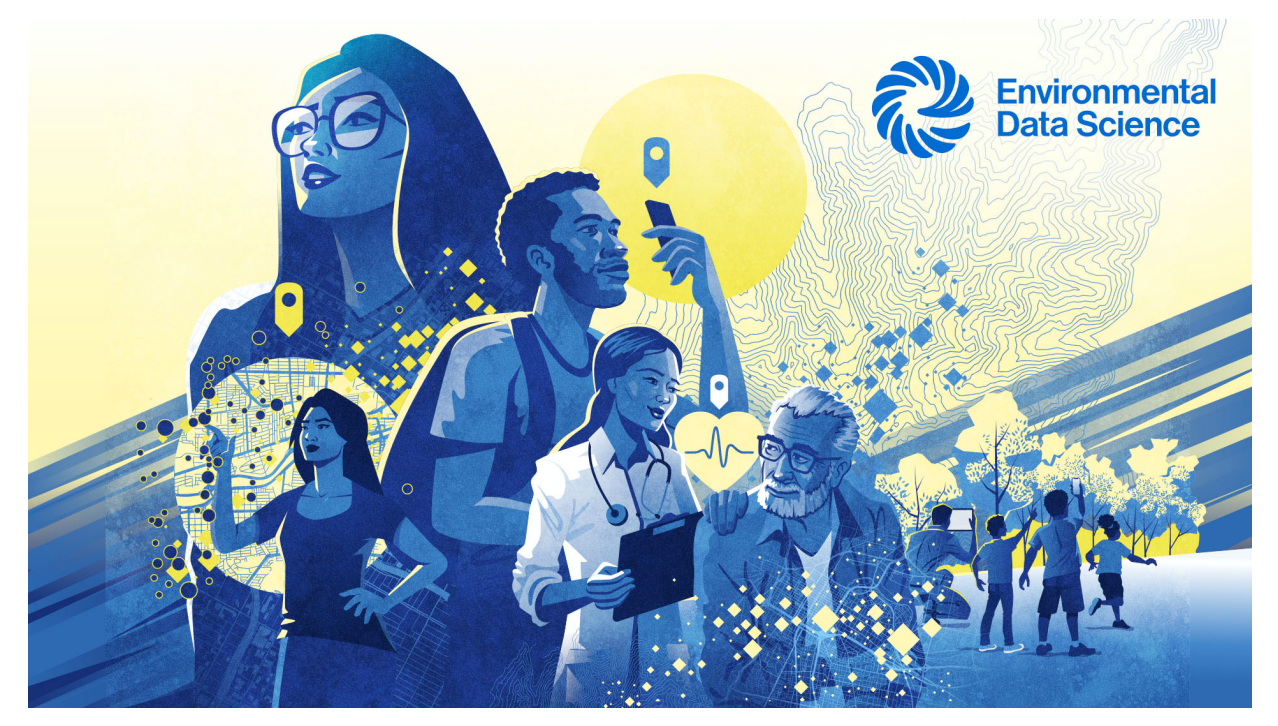 Already, we are seeing impressive actions from sub groups in the 2023 EDS Summit. One such deliverable is the Santa Barbara Charter, a document created by a breakout group that wanted to address core values of the local data science community and recommendations for growing their network in an inclusive way. Since its publication, the SB Charter has been supported by over 125 individual signatures and adopted by organizations like ESIP (Federation of Earth Science Information Partners). Read more about their call to action in the full charter text and consider adding your name to the growing list of supporters. 
Scenes from the 2023 EDS Summit
Opening Remarks

NCEAS Director Ben Halpern opened the first day, discussing the goals of the two-day un-conference in building community and fostering collaboration. One hundred participants gathered at downtown Santa Barbara's Cabrillo Pavilion, a newly renovated, open space overlooking the ocean.

Speed Mingling

The first day of the 2023 EDS Summit kickstarted community-building by facilitating friendly data science conversations. Participants were asked to "speed mingle," switching between partners to discuss topics such as their journey to environmental data science and projects they were currently excited about.

Career Panels

Dawn Wright, PhD, moderated a panel on the first day of the summit, which focused on the various entryways and individual journeys to environmental data science careers. "This is a thing, we are part of a thing! For this thing to flourish we must be inclusive. There is room for every single one of us in this field, in this experience."

Individual Reflection

As part of the un-conference, individuals were given time and space, including access to Santa Barbara's downtown beach boardwalk, to contemplate what they thought were the biggest challenges facing the environmental data science community around diversity, equity, inclusion, and justice (DEIJ).

Ideation Sessions

Following individual reflections and a paired sharing session, breakout groups gathered to further discuss their ideas for advancing DEIJ in environmental data science. This provided time for groups to narrow in on their most promising idea and determine actionable steps for achieving that goal.

Idea Feedback

Each group's idea was outlined on a poster and presented to all attendees, with details on the problem, solution, and expected outcomes. Participants then wandered the room, providing feedback or coalescing ideas. Participants then voted, choosing ten ideas for collective focus on day two.

Kickstarting Community

At the end of the first day, participants gathered for a happy hour overlooking East Beach in Santa Barbara. This community building was key for fostering continued work and collaboration outside of the summit – many participants are continuing work on summit topics, with most collaboration taking place online.

Keynote Speakers

On the morning of day two, before group work, Elisha Yellow Thunder presented on Lakota Data Sovereignty and Community-Based Research. She offered early examples of Lakota maps that showed points, lines, and areas. "Just because you don't look like me, you are no less connected to the Earth."
What struck me most, both in the two days we shared together and beyond, was how empowering it was to come together as a community.