News & Features
Figure for Thought: Conservation Aquaculture, A Tale of Redemption
Conservation aquaculture – to conservationists, this may sound like an oxymoron, as aquatic farming can bring to mind negative impacts for native species and natural ecosystems. However, advances in technology, practices, and siting may be changing this tune, showing promise for mitigating aquaculture's impacts while also meeting conservation goals.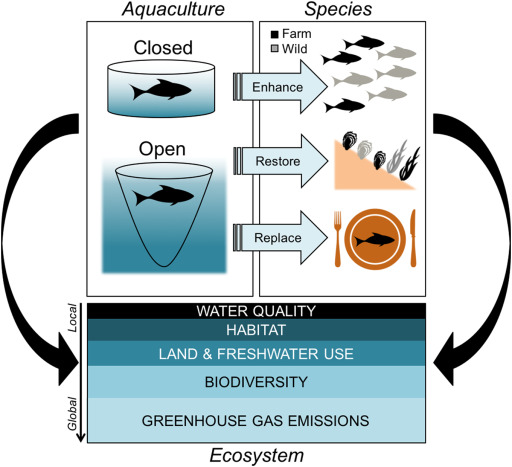 A recent paper published in Biological Conservation provides a conceptual framework (at right) for how aquaculture could be leveraged to help conserve species and ecosystems, underscoring its potentially significant role in achieving conservation objectives across the globe.
Halley Froehlich, lead author and postdoctoral researcher at NCEAS, explains the framework's significance.
"Aquaculture is the fastest growing food sector in the world, but it's typically considered at odds with conservation efforts. In this paper, we are trying to prompt new considerations about how aquaculture can help meet conservation goals in different ways and scales.
We show the opportunity to improve existing and new paths that allow aquaculture to grow, but in the service of the environment -- whether through improved water quality, reducing pressure on threatened aquatic species, and/or carbon capture. In doing so, we hope to spur those in the conservation community to take a deeper look into the benefits and costs of conservation aquaculture. Critically, we contend that these types of conservation goals need to be put at the forefront of aquaculture planning for the best outcomes on both sides."
The framework is also the namesake of the Conservation Aquaculture Research Team, or CART, a new research initiative to help guide aquaculture planning in this direction.
---
Figure for Thought features thought-provoking figures from NCEAS-supported publications with a brief explanation from the lead author.