News & Features
The Language of Synthesis: Reflections from our Poet in Residence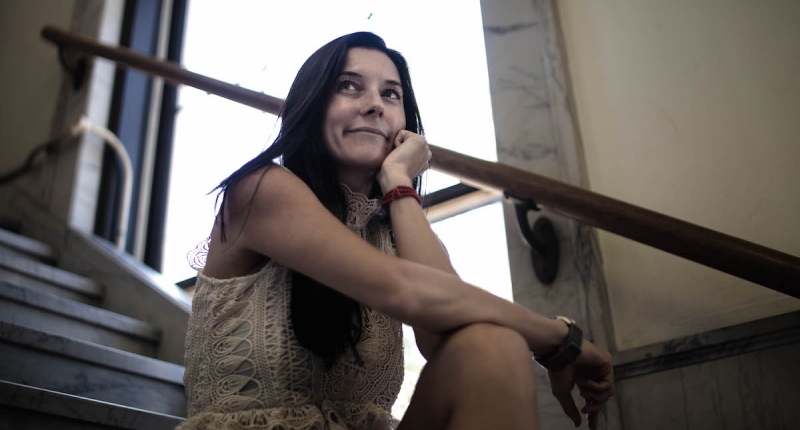 For the past year, NCEAS has hosted poet Emily Vizzo as one of our artists in residence. Emerging from her time with us is a collection of poems called BIO, and here she shares some excerpts and how the collection reflects her experience.
---
After spending time listening to and in conversation with NCEAS scientists, I found myself deeply interested in the language used to describe open science, synthesis, and data itself – sometimes abstract and incredibly complex topics with real application and urgent meaning for very tangible entities: the ocean, fish and other animals, and people, too.
Some of the poems came from thinking about this dynamic tension between abstraction and concrete; for example, with these lines:
Where is water there? An apothecary of
Abstracts, of fish and tomatoes. Trios, taxi rides. Bed nets.
Influenza. Stars, Darwin's finches. Quadrants
Marked low and high, guest rooms where data
Lays silently alive.
Because NCEAS engages with repurposed data, I also started to think about where data comes "from," for example, in these lines:
An open science,
The tracking of bees and ants and termites,
The provenance of data, the scrubbed ditch
Where even numbers come from.
The emphasis on storytelling at NCEAS Roundtables helped bring vivid images to my mind: studying blue sea mud, wreck diving, oil platforms that reach to depths in the Pacific Ocean deeper than the Empire State Building is tall.
So many ideas came from informal meetings at coffee shops and from talking with scientists from around the world as they participated in onsite working groups. Some of my favorite topics included sea otters digging for clams on the sea floor, remote Arctic villages, developing sustainable fisheries, quantifying a "sense of place" for an island chain, and examining the role of communication and education to spread knowledge and insights gained from synthesis and open science.
Engaging with the deep thinkers at NCEAS, I felt myself wanting to take a more active role in responding to the climate crisis, to hold myself accountable for my time here on the planet and for my own interactions with the land, water, and air around me.
I came away with an idea that data – and especially repurposed data and synthesis – is an action of translation between the natural world and human beings: a way to surface and make apparent an identifiable problem, so that we can make what better change can be made.
Where does privacy live? Surely in
Numeracy or something else unused to capture. A checkpoint
For glacier ice, competence, every city underwater. 
Follow Emily on Twitter or at emilyvizzo.com