News & Features
NCEAS Portrait: Cristy Portales-Reyes is in it for the Long Haul with Long-Term Ecological Research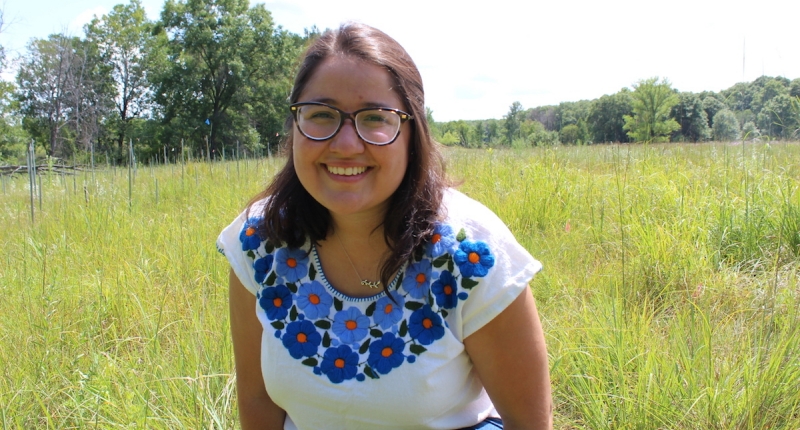 Drawing inspiration from her tenacious grandparents, who lived their dreams of becoming an engineer and a doctor in Mexico, Cristy Portales-Reyes follows closely in their footsteps. An ecologist early in her career, she is forging an exceptional path not just for her family, but also as one of the rare graduate students who gets involved in a collaborative, synthesis research project.
Portales-Reyes is part of a Long-Term Ecological Research (LTER) Network synthesis team focused on understanding what fluctuations in the populations of species mean for ecosystem stability and biodiversity. She has practically grown up as an ecologist in the LTER Network, honing her research skills at two different LTER sites: Kellogg Biological Station in Michigan as an undergraduate student and now Cedar Creek Ecosystem Science Reserve at the University of Minnesota. 
"I truly value being able to access and work with these long-term data sets. I also identify with the collaborative culture of the Network," said Portales-Reyes.
For her personal research, Portales-Reyes studies how changes in nutrients within ecosystems alter the ability of plant species to coexist, why this results in declining species diversity, and what we can do about it to preserve biodiversity. While she has enjoyed working in the field and with experimental data, she says doing synthesis has enabled her to widen her frame of reference as a researcher.
"I find synthesis science a powerful way of learning more about natural systems. It allows us to make connections that would be more difficult to make otherwise. I think it will be an important part of my toolbox throughout my career," said Portales-Reyes.
We are grateful that Portales-Reyes took time out of wrapping up her PhD to tell us more about how her participation in the LTER Network and conducting collaborative synthesis science are shaping her career.
Why were you excited about participating in the LTER synchrony working group?
CPR: Our group is very diverse, welcoming, and curious about different perspectives. We are interested in similar questions but approach them from very different angles, including our preferred research tools or even the biomes to we work with. I think this shapes the way we each think about our questions and datasets, which can greatly enrich the quality of our work.
How has your experience working at specific LTER sites contributed to your involvement in the synthesis working group?
CPR: Having first-hand experience working at both of these LTER sites has allowed me to put our results into context and be better able to develop research questions. It has also made me aware of the importance of consulting with someone who has worked at these sites when interpreting results and making decisions about how these datasets could be analyzed together. In my opinion, one of the greatest strengths of the LTER Synchrony working group is that the organizers made sure to have a diverse set of voices represented in the group, which included career stage, cultural background, area of expertise, and site affiliation.
Tell us more about how your grandparents were an inspiration to you.
CPR: My grandpa Luis was full of curiosity and passionate about learning. He worked really hard and travelled far from home, despite financial difficulties, to realize his dream of becoming an engineer at one of the best universities in Mexico. He was also a naturalist and adventurer, which he passed on to me. My grandma Lucy is a defiant and determined woman that doesn't let others keep her down. In her youth, she was relentless in acquiring the education she knew she deserved, despite being one of very few women in her university. She became a doctor and advocate of women's reproductive rights in Mexico. Growing up with them made me feel like no dream was too big or obstacle unsurmountable.
And what has empowered you in your journey to becoming an ecologist?
CPR: Once I started studying science, having good mentors and role models that I could relate to empowered me to continue doing research and to become an ecologist. I ultimately decided to become an ecologist because it aligned with my interests, but also because of the culture of the discipline. I think ecologists tend to be a very open and welcoming group of scientists that are genuinely excited about what they do. Doing field work at Kellogg Biological Station and getting to regularly interact with faculty and graduate students that formed part of a very diverse community made me feel like I belonged in ecology.   
Since you are about to finish your PhD, what is next for you?
CPR: I love doing research. So, eventually, I would like to become a faculty member at a research institution. I also really enjoy teaching and mentoring students and would like to work at an institution where I can interact with undergraduate and graduate student researchers. As my career advances, I am confident LTER will continue being one of the most valuable resources for me and many other ecologists!
# # #
Joanne Yue was a communications intern for the 2018-2019 school year, while she completed her last year as an undergraduate student at UC Santa Barbara.
NCEAS Portraits feature the people behind our work and impact.