News & Features
NCEAS Portrait: Jessica Gephart Is Tracking Food from Sea to Table to Identify Sustainable Diets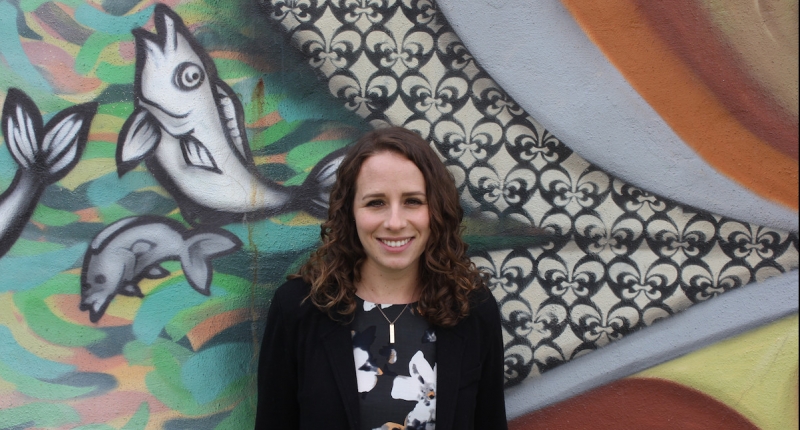 As consumers, we may not always notice the rapid, global changes that are occurring to what food we are eating and how it gets to our tables, but Jessica Gephart does. Gephart, an assistant professor in environmental science at American University, tracks the expansion of food systems – or the production, processing, transport, and consumption of food – across the globe and their environmental impacts, with a particular focus on an often overlooked component of the global diet: seafood.
It was as a graduate student that Gephart first noticed seafood was often missing from studies of globalized food systems, despite the fact that it is a key player in people's diets worldwide. She began wondering how incorporating seafood might change our 'big-picture' understanding of how people's diets are collectively impacting the environment, and vice versa.
Now she uses a unique combination of data from international trade and environmental impact analyses to examine the role that seafood can play as both an impact and a solution.
"Increasingly, the conversation about global food systems is moving away from focusing only on their negative role in the environment and toward how food systems can be part of the solution," explained Gephart. "This makes it a really exciting time to participate in this conversation."
Gephart is also now a member of an NCEAS working group that will surely add something novel to that conversation. They are conducting a first-ever comparison of the environmental impacts and sustainability potential of all major food systems — including seafood, both wild and farmed — at local, regional, and global scales, which is necessary to identify the most effective options for sustainable diets.
"This is a huge opportunity to push the boundaries of the science of human-environmental systems and to meet a ton of great people who I genuinely enjoy working with," said Gephart.
In recognition of World Food Day, we asked Gephart to share more about how a collaborative, synthesis approach can contribute to global conversations about food security and sustainability.
What impact do you hope to have through your NCEAS working group?
JG: In order to identify solutions, the diversity of food systems needs to be compared in a consistent way across a range of environmental measures. Specifically, getting the trade piece right is essential if you want to understand how food moves across our globe and in what quantities to connect the environmental impacts of food production to the consumers. Additionally, these trade patterns may reveal opportunities for intergovernmental agreements and trade deals that promote food security and sustainability. I hope our group's work will advance the dialogue and improve global estimates of the role of aquatic food sources in sustainable diets.
What benefits does the synthesis approach offer to your studies of the environmental impacts of global food systems?
JG: When you are studying something at the global scale, it is not possible to collect your own data. Questions surrounding the environmental impacts of global food systems are also inherently multidimensional and highly interdisciplinary. As a result, you have to bring together existing data sets. However, in order to bring those data together, you need a team of people who really understand the data. I think synthesis centers play a crucial role in bringing that knowledge into one room in order to answer these big questions.
You were a postdoc at a sister institute to NCEAS, the National Socio-Environmental Synthesis Center (SESYNC). How has your work there cross pollinated your work with at NCEAS?
JG: As part of my work at SESYNC, I have been working on a big project to convert the seafood trade data from commodities (e.g. canned salmon) into species (e.g. pink salmon) in order to connect the environmental impacts of production to consumers. The resulting data set will inform my own projects, but will also likely feed into the NCEAS working group's research. 
What is one of the most important lessons that collaborations like your NCEAS working group have taught you?
JG: I have learned that it is essential to not only assemble the right people in terms of their disciplinary background, but also the group that will have the right team dynamics. Additionally, it is important to value group bonding time. Doing interdisciplinary work involves building trust so that everyone feels comfortable talking openly about their ideas. In an interdisciplinary setting, everyone also needs to feel comfortable asking questions when they are confused. Beyond that, interdisciplinary research can be hard work, and I find that collaborations can be more productive when people genuinely enjoy spending time with each other.
# # #
Caitlin Swalec is a 2018-2019 Science Communication Fellow and recent master's graduate of the UC Santa Barbara's Bren School of Environmental Science and Management.
NCEAS Portraits feature the people behind our work and impact.