News & Features
NCEAS Portrait: Ted Schuur Connects the Arctic to Our Everyday Lives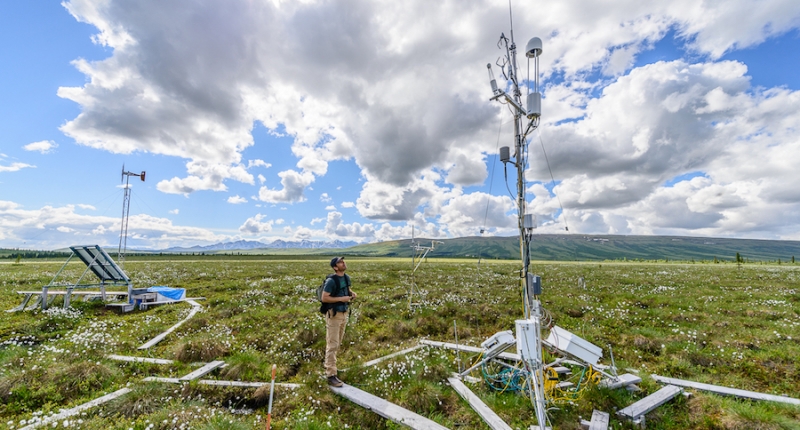 What happens in the Arctic doesn't stay in the Arctic.
This bit of insight came to ecologist and explorer-at-heart Ted Schuur as he observed firsthand how rising global temperatures affect his field sites in Alaska, where he measures the carbon released into the atmosphere by thawing permafrost. It is the fate of this carbon that inspires him to communicate the importance of Arctic ecosystems.
"What makes me passionate about these remote ecosystems is their potential to influence the climate system and, as a result, the lives of people everywhere," said Schuur, referring to the Arctic's influence on the global carbon cycle, particularly the role of permafrost in carbon storage.
The interconnectedness between these understudied ecosystems and global climate is also what first brought him to the NCEAS community, where he spent a year as a sabbatical fellow to become more involved in the synthesis and data science networks (and to surf, something he can't really do in the Arctic). His experience reinforced that the human element of synthesis science – a network of engaged collaborators – is often just as powerful as having access to great data.
Schuur has also found synthesis science to be a useful tool in making research accessible to audiences outside of academia.
"Synthesis science papers are often helpful for writing other articles for people in decision-making or management, who have to decide on particular issues and policies," he said.
Schuur now leads the NSF Arctic Data Center's synthesis working group on permafrost carbon, which is exploring how thawing permafrost will affect climate change mechanisms. He also leads the National Science Foundation's Permafrost Carbon Network and directs the Ecosystem Dynamics Research Laboratory at Northern Arizona University.
In this month's NCEAS Portrait, Schuur shares how synthesis science allows his work to have broader implications.
How has synthesis science contributed to the way you conduct your research?
TS: The issue of Arctic carbon and climate is inherently playing out at the global scale. At the same time, as an ecosystem ecologist, much of the research I do is at the site scale. My research demonstrated important dynamics with permafrost carbon with warming, but the key question was how widespread these findings might be. Synthesis science offered a quantitative way to link across different study sites in order to understand the regional and global impact.
What is your synthesis group through the Arctic Data Center trying to understand, and why is that important?
TS: Our overarching interest is how changes in permafrost carbon can feedback to future climate. Within this picture, we are using synthesis science to build a decadal-scale time series of ecosystem-atmosphere carbon exchange. This time series is built upon individual chamber and tower carbon flux measurements made at individual arctic and boreal sites within the permafrost zone. With this time series, we are trying to determine whether these ecosystems are currently net sources or sinks of atmospheric carbon and how this may have changed over the past several decades. A net carbon source acts to accelerate climate change – that is why this matters to people.
How do you think your Arctic synthesis research will have an impact?
TS: Understanding whether the permafrost region is already acting as a carbon source to the atmosphere, and documenting how that changes in a warmer world will help the conversation about carbon mitigation. Reducing human carbon emissions is key towards slowing climate change, but we also have to understand if remote regions like the Arctic are going to absorb carbon dioxide or emit it. Knowing that, we can adjust our emissions reductions accordingly in order to keep climate warming within some level we hope is manageable for human society.
Have you come across any surprises or mysteries in your research?
TS: Oh, there are surprises every day. One thing I never learned in graduate school was that, for every one question you could definitively answer with a study, you also generate three new really interesting and important questions. That's the relentless complexity of nature that we are drawn to, I guess.
# # #
NCEAS Portraits feature the people behind our work and impact.
Cheyenne Coxon is a 2018-2019 Science Communication Fellow and graduate student at UC Santa Barbara's Bren School of Environmental Science and Management.