News & Features
NCEAS Portraits: Artist Elkpen
On the inspiration and meaning behind the mural in the NCEAS lounge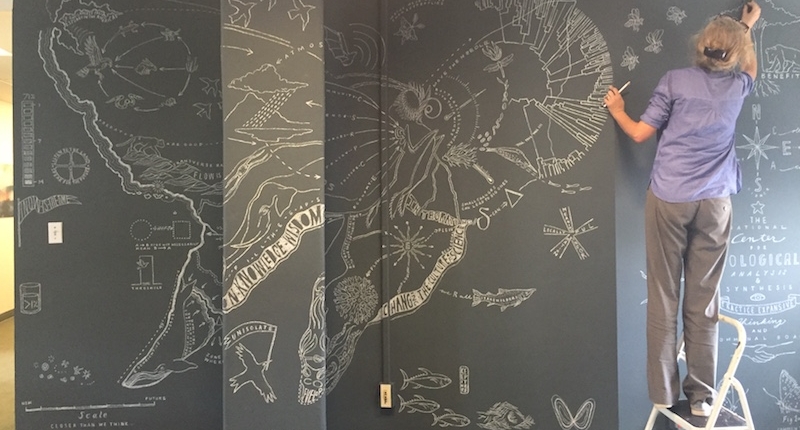 When artist Elkpen began her work on a mural to cover an oddly shaped wall and adjacent pillar in the NCEAS lounge, she had over 50 pages of vignettes and illustrations about the ideas behind the Center to guide her. At completion in September, her chalky white drawings upon a chalkboard-like wall convey an intricate and whimsical interpretation of how NCEAS works to advance science, build community and shape our world.
Elkpen, whose pen name does have a story behind it, is a Los Angeles-based street artist whose wall drawings and "public intervention" projects can be found throughout southern California and scattered beyond the Golden State. Her mural at The Valley Project, a Santa Barbara wine-tasting room, was what inspired NCEAS executive director Ben Halpern to approach her about livening up our lounge, a central space with many uses and lots of traffic.
True to Elkpen's style, the resulting mural uses cartography, natural history, and word plays to shape a butterfly, in the spirit of our logo, decorated with visual metaphors for natural phenomena, place-based geographical elements and phrases meaningful to NCEAS' work and mission. As she does in all of her projects, Elkpen says she tried to recast topics that are central to NCEAS with quiet humor and a sense of wonder.
We asked Elkpen to share some thoughts about her work for this month's NCEAS Portraits.
Why were you excited to take on this project?
I have been considering how to bring a more dedicated aspect of conservation into my work. This project is immersing me in some of the real science and work behind the topics I am interested in.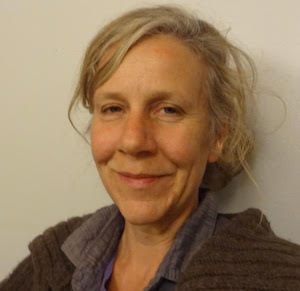 What was your inspiration for the design?
I had a number of concepts laid out in a rough drawing, and one day, looking at it in my studio, I saw a butterfly. The butterfly works as a reference to the logo of NCEAS and the Lorenz diagram. As a creature of astonishing metamorphosis, a landscape health indictor, and a symbol of how small changes can effect large changes, the butterfly seemed right! As I was working on the wall drawing, I realized the butterfly also made sense for the tympanic quality of their wings, which reminds me of the delicate nature of ecological relationships and the delicacy of good communicating (butterfly wings act as sense organs).
How does the NCEAS mural fit into your repertoire?
In every project I incorporate natural history, details about surrounding landscapes, and information on local species to ground the content in the natural identity and dynamics of the place where the project happens. I see the value of my art as, I hope, providing a framework of wonder about the under-seen natural environment. The NCEAS mural was an opportunity to talk to an audience where nature is not underseen. This was a new experience.
What aspect of the mural was the most difficult?
The beam and the curved wall seemed very difficult at first. In the end, they were a great asset – they break up the focus of the drawing so it appears one way and then another. That dynamism is great.
What aspect of the mural do you take the most delight in?
That NCEAS finds surprise and excitement in the drawing.
You say one of your goals with art is to develop a tone of Wonderment in people. How did you try to accomplish this in the NCEAS mural?
Once I am on the wall drawing, it is an intuitive and on-the-spot process of association and imagination. I looked for ways to filter my ideas through visual humor, surprises, and unexpected connections. It is hard to describe, because it is what the actual work is - being there with the content and the drawing talking back to me and my hand.
What message do you hope the mural conveys to viewers?
Work harder to save what remains, and let everyone you know know it and to do the same.
What motivates you to make art?
Well, it's the only thing I can do, so it drives me. Making art about nature: nature makes sense to me; few other things do.
What do you think is valuable about collaborations between artists and scientists?
Artists can help science communicate with a broader audience by using imagery, metaphor, and narrative to simplify complex ideas. I think it is critical that art in this role not to be overtly political but find a way to make science wondrous and relevant to everyone in daily life. Science describes fantastic things, processes, and events that are great material to work with. I think art can point out that it takes just stopping, being quiet, and looking to start to see some of the world science helps explain.
How can we harness the benefits of art+science collaborations?
Keep doing it!! Art for me is a process of observation. So is science. They have a natural correspondence to build on.
Learn more about Elkpen's work at elkpen.com and follow her on Instagram @elkpen. She is always looking to collaborate.