News & Features
NCEAS Portraits: Craig Groves Wrote the Book on Bridging Conservation Science and Practice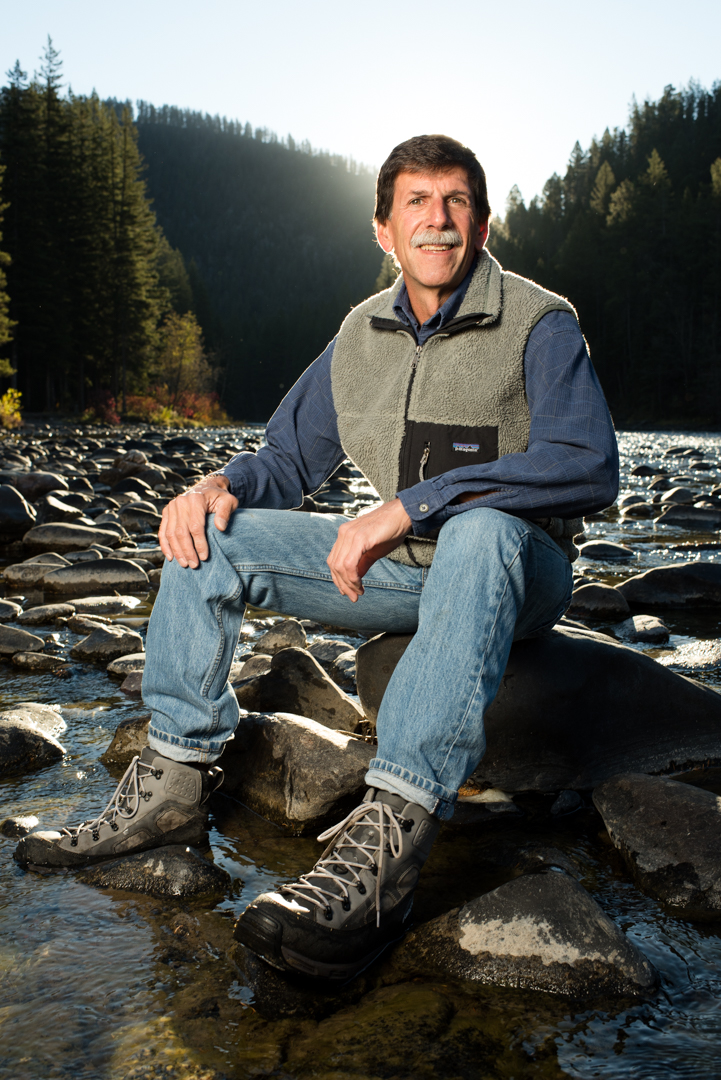 Craig Groves is a bridge builder. His first book, Drafting a Conservation Blueprint (Island Press, 2003), connects the fields of ecology, conservation biology, planning and policy to provide a framework for developing regional plans to protect biodiversity – and it's considered staple reading in the conservation community.
Most recently, he was at the helm of an initiative that bridges nature conservation, sustainable development and human welfare called the Science for Nature and People Partnership (SNAPP), of which NCEAS, The Nature Conservancy and Wildlife Conservation Society are founding partners. Groves was SNAPP's first executive director, and this role, along with his first book, are among his self-proclaimed crowning professional accomplishments.
This fall, Groves hung up his hat on a 33-year career as a conservation biologist and, rather than building one, he crossed a bridge to the next adventure, retirement.
Groves' professional journey was uniquely intertwined with all three of SNAPP's founding partners. He spent considerable stints as a scientist at The Nature Conservancy and Wildlife Conservation Society, and a sabbatical fellowship in the early 2000s landed him at NCEAS, where he had his first encounter with synthesis science, participated in a couple of working groups and wrote that first book.
We asked Groves to reflect on his bridge-building career in this month's NCEAS Portrait.
What was the most recent project you were working on to advance SNAPP?
Groves: Some of my recent efforts focused on adding a humanitarian or development organization as a partner for SNAPP and having more SNAPP multi-disciplinary teams that are led by development or humanitarian-oriented organizations.
What do you value most about your experience working with SNAPP?
Groves: Helping create truly interdisciplinary and multi-sectoral teams of experts that are able to bring different types of technical expertise to address complicated problems, and use that expertise to develop solutions that make a long-term difference.
Did you ever experience a "failure" that taught you a great lesson?
Groves: More than one! I was co-leading an effort to try to improve how a large conservation organization measures its results and outcomes. It taught me a lot about how important individual leadership efforts are to the outcomes of major initiatives. The lessons learned from this experience helped me understand the importance of leadership in the teams that SNAPP funds and facilitates.
Did you ever have an "ah-ha" moment that changed the way you approach your work, and how did it change you?
Groves: Over a long career with natural resource agencies and conservation organizations, there were several ah-ha moments. If I could generalize, I would say one ah-ah is that any successful initiative in most institutions requires that a set of enabling conditions are in place. And if those enabling conditions aren't in place – for example, strong leadership, political will, sound funding base – a major initiative or project is not very likely to succeed.
What do you hope for the future of SNAPP?
Groves: My greatest hope is that science and conservation-oriented funding organizations, as well as philanthropic individuals, will see the great value that SNAPP teams are providing. [They are] bringing excellent multi-disciplinary science to bear on complex problems, and developing and applying solutions to these problems, which no individual organization or sector could possibly do on its own. And they are doing it in a time-efficient and cost-effective manner.
What keeps you inspired outside of work?
Groves: I've always found inspiration in nature, especially spending time hiking and recreating in parks and protected areas around the world. Given the enormous amount of threats to the natural world, it is not hard for me to stay inspired. And where I live in Montana, I wake up every day being inspired by Rocky Mountain landscapes.
What are your retirement plans?
Groves: I'm volunteering for two organizations that have a strong science and conservation component to them. I'm on the board of directors of the Yellowstone to Yukon initiative, and I'm devoting time to IUCN's World Commission on Protected Areas, where I serve as an editor of a set of best practice guideline documents intended to improve the conservation and management of parks and protected areas around the world. I am also looking forward to more time for skiing, travel, pleasure book reading, R and R, and a much smaller email inbox.
###
NCEAS Portraits feature the people behind our work and impact.