Amber Budden, Open Science and Work-Life Balance Advocate
NCEAS Portraits: Women in Science Edition
By Jenny Seifert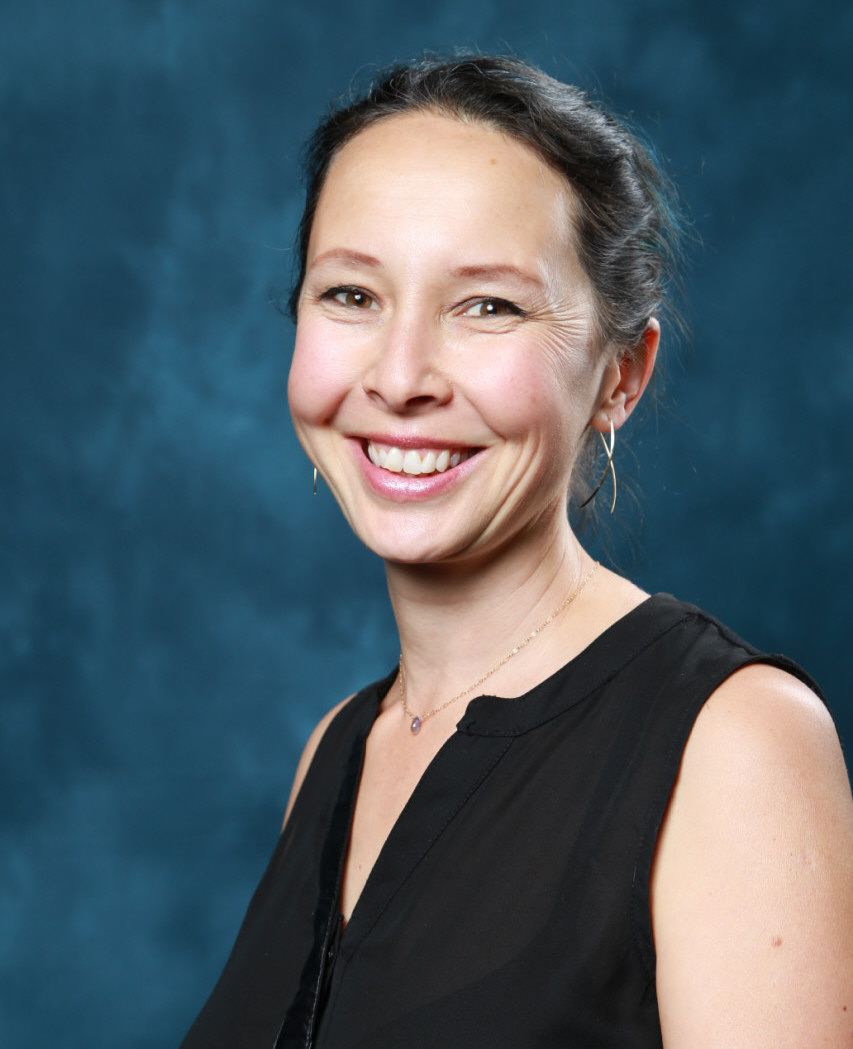 Raised in a family of artists, Amber Budden was the black sheep who chose the path of science – a path that has become more of a crosswalk between worlds. She started as a field-based behavioral ecologist studying birds but took a turn when she joined an NCEAS working group 12 years ago and, a year later, became an NCEAS postdoctoral researcher to lead a study investigating whether biases occurred in scientific publication practices (as it turned out, there was evidence of gender bias).
"When people ask me about my career trajectory, that was my transition point – going from domain ecology research to exploring the science of science and publication practices. And then from there, I went to working in open data," explained Budden, who is now the Director of Community Engagement and Outreach for DataONE and an NCEAS Senior Fellow.
Budden's motivation for DataONE's mission – supporting the open science movement – drives her work in increasing awareness around and engagement in it. She sees open science as an extension of working in collaborative groups, as a way for researchers to work with other researchers anywhere in the world and across disciplines.
"I think there are amazing advances being made in the technology supporting open science, but it doesn't stand alone. We need people to use it. We need to motivate the community to participate, and that's what community engagement is about," she said.
When it comes to women in science, supporting more openness to work-life balance is important to Budden.
Is there another woman in science who has been influential to you?
AB: All of my mentor-type relationships have been with men, with the exception of one: Janis Dickinson. Janis has retired now, but she was faculty at UC Berkeley when I worked with her, and then she became the Director of Citizen Science for the Cornell Lab of Ornithology. Although I don't work in that field anymore, it was a pleasure to work with a woman scientist and to be in a lab led by a female scientist. The dynamic was different – very collegial, and more discussion and awareness of gender issues. It was something that wasn't talked about otherwise.
Is there anything particularly challenging or helpful about the collaborative synthesis model for women?
AB: Working groups are a great opportunity for a more level playing field, for people to come together and share their ideas. It provides a space not just for women, but for all researchers to be able to contribute and be heard. The extent to which that occurs can vary depending on the composition of the working group.
NCEAS has always had a very healthy representation of male and female postdocs. There's always been an environment of equality and diversity, and I think that's noticeable when working groups come in. When I was here as a postdoc, nearly all of us had young babies, and we had a nursing room set up. To have such a supportive environment, where we had facilities made available to us to be able to manage the work-life balance, was great.
And to be honest I think I took that for granted. I'm British, and in Britain a year of maternity leave is common. So to be told that, here, you only get 12 weeks of unpaid leave was surprising. If that's the case, of course accommodations have to be made.
I'm comfortable pushing boundaries a little to exemplify what I believe is appropriate work-life balance in the care of young children. When I started working for DataONE, I would take my nursing daughter with me to conferences and meetings. I think my experience with the supportive environment of NCEAS enabled me to take that position. It was the cultural norm at NCEAS, and I think the more that women can approach the workplace in the same way, the more it will become a cultural norm elsewhere.
What can institutions like NCEAS do better at elevating the contributions of women?
AB: One thing institutions can do when they're profiling their organization and activities is to highlight the work that's being done by everyone in the community, and make sure they are representing women and minorities in their materials.
Also, I think you need to be attentive to the way in which you recruit working groups. When you ask people for suggestions, often they will recommend people they know and are familiar with. And so, although they are not intentionally biased, networks can be narrow. You have to go an extra step to make sure you're exploring all potential candidates. And you need to be mindful of diversity. At DataONE, we have a matrix that we are attentive to.
What is THE issue in women in science that is most important to you?
AB: The reason I'm passionate about the career-life balance issue isn't because it's a women's issue. I think that men should be afforded the same opportunities for parental leave and given the same compassion around childrearing as women are. And I think, in doing so, it provides for women, and it creates a space for men to have balance, because it will be the norm for all individuals. It's not a special exception for women. The UK, Canada, and other countries have great paternity programs, so it stops it from being a gender issue. It's about changing the lens through which we look at the work-life balance.
Meet other women in science in this special edition of NCEAS Portraits >>