News & Features
The Next Generation of Environmental Scientists are Data Scientists
NCEAS Portraits: Data Science Fellow Edition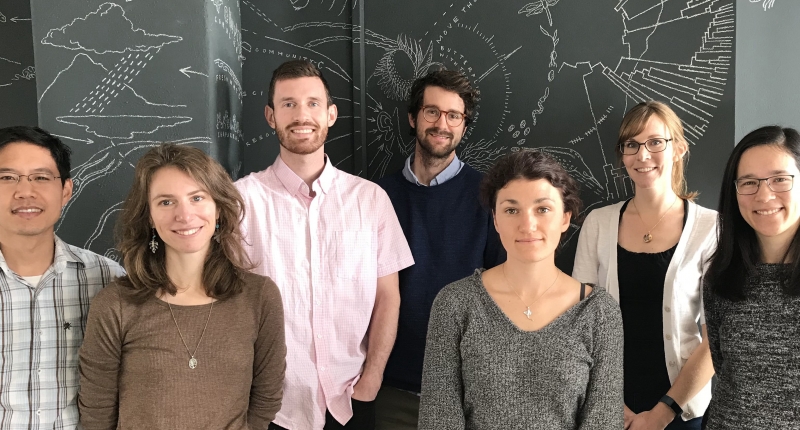 These days, the "data problem" for environmental scientists is less about having enough of it and more about figuring out what to do with all of it – and to do it efficiently. Environmental data science is a burgeoning field representing the skills, tools, and techniques for organizing and analyzing large amounts of data to answer the increasingly complex questions environmental scientists are facing.
Despite a growing recognition of the need for data science skills in the environmental sciences, opportunities to get applied knowledge and experience are few. For this reason, NCEAS started a Data Science Fellowship program for early career researchers this year, the first cohort of which is wrapping up this month.
The six-month fellowship provides a unique chance for fellows to get their hands dirty in data science using real-world data – there are no neat and tidy datasets like one might get in a graduate course. In a win-win situation, the fellows in turn support two real-world projects: the Arctic Data Center, a repository for arctic research funded by the National Science Foundation, and the data-rich State of Alaska's Salmon and People project, an endeavor to compile and make accessible all existing data related to the project's namesake.
In this month's NCEAS Portrait, we feature four of the fellows from this first cohort, who shared what they learned and why that's important – along with their favorite emojis, which the team used frequently to add a little fun and efficiency to their communication. The fellows represent the next generation of environmental scientists, a generation that will be well-equipped to apply science's ever-increasing amounts of data to solutions for environmental challenges.
*For our non-data-scientist readers, we have defined a few of the data sciencey terms our fellows used in their portrait interviews.
NCEAS Portraits feature the people behind our work and impact.