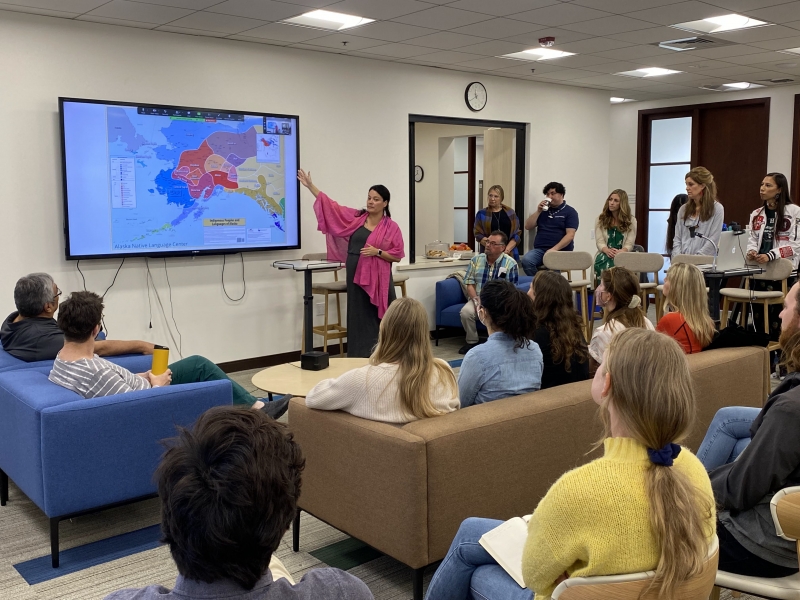 Roundtable is a weekly series of informal presentations and discussions on a wide variety of topics related to current work happening at NCEAS. Roundtables are open to the public, but are often geared toward a scientific audience.
When: Wednesdays, from noon to 1:00pm
Where: NCEAS Lounge, 1021 Anacapa, Suite 300 Santa Barbara, CA
Sign up to our Google Group to receive announcements of upcoming Roundtables.
November 2, 2022
Silicon: The unsung, biogeochemical superhero
Lienne Sethna, St. Croix Watershed Research Station
Human modifications to the landscape alter the abundance, transport, and biogeochemical processing of nutrients in aquatic ecosystems. Specifically, agriculture and damming elevate the proportions of nitrogen (N) and phosphorus (P) relative to silicon (Si), contributing to water quality impairment and the formation of harmful algal blooms. My  research uses monitoring and experimental approaches to characterize the biogeochemical cycling of Si in human-dominated, freshwater ecosystems and fill critical knowledge gaps in our understanding of the relationship between nutrients, algal community composition, and carbon cycling. In this talk, I present results from my dissertation research in an agricultural watershed and drinking water reservoir to show how land-use change alters Si biogeochemistry. I also include preliminary results from my current postdoctoral research in the relatively pristine watersheds of northern Minnesota which examines nutrient biogeochemistry without the effects of direct land use modification.
October 26, 2022
Diversifying representations of female scientists: a case study from the Women Doing Science Instagram
Alexandra A Phillips, NCEAS
What does a scientist look like? We investigate the power of social media in shaping the vision of diverse female scientists using the popular Instagram page Women Doing Science as a case study. This social media platform has featured photos and stories from over 800 international women in STEM between 2018 and 2022. We analyzed posts from the page for trends in photo/caption content and engagement and cross referenced these data with results from several demographic surveys to both featured scientists and page followers. Our analysis revealed that Women Doing Science features reflected diverse, international female scientists that audiences not only rewarded with higher engagement, but also specifically sought out. This highlights the power of social media to portray role models with myriad identities for students that may lack real-life examples in their family or university. However, until the burden for DEI work shifts from students to those with greater institutional power, racial and gender gaps will persist and scientists will continue to rely on social media for inspiration.  
October 19, 2022
An integrative evaluation of California's marine protected area network
Jenn Caselle, UCSB
Kerry Nickols, California State University, Northridge
Josh Smith, NCEAS
As part of the 1999 Marine Life Protection Act (MLPA), California established a network of 124 marine protected areas (MPA) designed to conserve the diversity and abundance of marine life, and to protect the structure and functioning of coastal ecosystems. The network was implemented from 2007-2012, and 2022 marks 10 years since full implementation of the network. The State of California invested in monitoring of the MPA network, which was managed according to distinct habitats and sectors. As part of the Decadal Management Review of California's MPA Network, the Ocean Protection Council funded the California MPA Network Synthesis Working Group through NCEAS to evaluate the performance of MPAs across habitats, ecosystems, and regions throughout the state. We are specifically evaluating: (1) the effect of regulatory protection on ecological responses across habitats and regions, (2) how human engagement is distributed across the MPA network in relationship to MLPA goals, (3) whether MPAs confer ecological resistance and resilience to climate perturbations (such as marine heatwaves), and (4) the effects of MPAs on multiple dimensions of California's commercial and recreational fisheries. Our talk will focus on the results for each of these dimensions and how they inform California's first decadal management review of the MPA network.
October 12, 2022
Impacts of intensified drought across space and time: Results from the International Drought Experiment
Timothy Ohlert, Colorado State University
Melinda Smith, Colorado State University
Kate Wilkins, Denver Zoo
Climate change is intensifying drought, but due to the rarity of extreme drought historically, its impacts to ecosystem function are not entirely clear. To better understand these effects, we imposed single-year droughts at 100 grassland and shrubland sites on six continents. Here we show that aboveground net primary production (ANPP) was reduced by ~21% at sites (n=55) where drought severity fell within the normal historic range. Of concern is that we observed a ~1.5-fold decrease in ANPP (34% loss) at sites (n=45) with drought severity that exceeded the 1-in-100-year threshold of historical drought occurrence. This reduction in a foundational ecosystem process with a single year of extreme drought greatly exceeds previously reported drought-induced loss of function for grasslands and shrublands, indicating that current predictions likely underestimate the global impacts of projected increases in drought severity.
October 5, 2022
Disturbance accelerates climate-driven range shifts in trees of the western US
Katie Nigro
Colorado State University
Climate change is projected to cause shifts in tree species distributions, but the ability of trees to track current changes in climate is uncertain. Disturbances may provide a catalyst for tree species range shifts by reducing competition and creating needed microsite conditions. In this talk, I will discuss how fire vs. insect outbreaks impact range shifts of tree species in the western US through analysis of a large dataset and a complementary field study of trembling aspen in southern Colorado.
Dynamics of post-masting recruitment in a hot drought
Diana Macias
University of New Mexico
The long-term stability and resilience of our forests depends on tree reproduction, but different reproductive strategies have varying implications for regeneration. Using a long-term reproduction dataset and newly germinated seedlings data on Pinus edulis, we asked (1) Do super-masting trees have greater recruitment? (2) What predicts seedling survival after a mast year? In this talk, I will show how seeds faced long odds and discuss the vulnerability of early life stages to climate change.