NCEAS Working Groups
Developing an integrated botanical information network to investigate the ecological impacts of global climate change on plant biodiversity
Project Description
Ecosystems change naturally as well as due to human intervention. Species ranges expand and contract, and some species become extinct. Sometimes these changes fundamentally impact the diversity and function of local communities. Documenting large shifts in species' abundance and ranges requires data from entire biogeographic provinces. Most datasets; however, originate from individual researchers and cover local scales. These efforts represent only a small part of the full evidence which could be brought to bear upon any given research question. If we could combine the millions of vegetation plots, botanical inventories, and specimens collected since the birth of plant ecology in the late 1800s, we would have an enormous baseline database for addressing questions on plant diversity and distributions that have not been addressed before.
This Working Group brought together:
Leading collectors and managers of botanical survey and inventory data
Informaticians
Ecologists doing synthetic research across scales
This Working Group integrated, for the first time, the most significant existing sets of vegetation data spanning North and South America. This effort incorporated database resources for plant plot information and taxonomies and will encompass several million records of species occurrences. The result will be the largest assembly of data on plant diversity and distribution for both tropical and temperate plant species yet created. This will address basic yet critical questions regarding how climate and climate change influence species range sizes, abundance, and extinction risk.
BIEN website and ongoing database development work
This work was supported by the National Center for Ecological Analysis and Synthesis, a Center funded by NSF (Grant #EF-0553768), the University of California, Santa Barbara, the State of California and the iPlant Collaborative.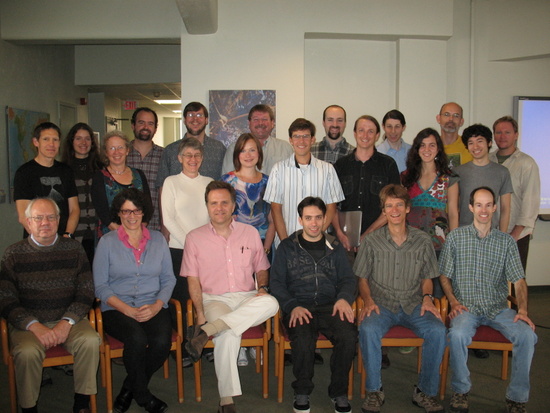 Principal Investigator(s)
Brian J. Enquist, Brad Boyle, Richard Condit, Steven Dolins, Robert K. Peet
Project Dates
Start: August 1, 2008
End: May 1, 2010
completed
Participants
Jorge Ahumada

University of Hawaii

Sandy J. Andelman

Conservation International

Benjamin Blonder

University of Copenhagen

Brad Boyle

University of Arizona

Jeannine M. Cavender-Bares

University of Minnesota, Twin Cities

Richard Condit

Smithsonian Tropical Research Institute

Doug Daly

New York Botanical Garden

Barbara H. Dobrin

University of Arizona

Steven Dolins

Bradley University

John C. Donoghue

University of Arizona

Kristine Engemann Jensen

Aarhus University

Brian J. Enquist

University of Arizona

Eric H. Fegraus

Conservation International

Karla Gendler

University of Arizona

Steve Goff

University of Arizona

Peter Jørgensen

Missouri Botanical Garden

Nathan J.B. Kraft

University of British Columbia

Gabriela Lopez-Gonzalez

University of Leeds

Zhenyuan Lu

USDA Agricultural Research Service (ARS)

Yadvinder Malhi

University of Oxford

Aaron Marcuse-Kubitza

University of California, Santa Barbara

Naim Matasci

iPlant Collaborative

Brian J. McGill

University of Arizona

Sheldon McKay

University of Arizona

Naia Morueta-Holme

Aarhus University

Martha Narro

University of Arizona

Jeffrey E. Ott

University of North Carolina, Chapel Hill

Robert K. Peet

University of North Carolina, Chapel Hill

Oliver Phillips

University of Leeds

William Piel

Yale University

Shashwati Ramteke

Bradley University

James Regetz

University of California, Santa Barbara

Brody Sandel

Aarhus University

Mark P. Schildhauer

University of California, Santa Barbara

Irena Simova

Charles University

Lindsey L. Sloat

University of Arizona

Nick Spencer

Landcare Research

Jens-Christian Svenning

Aarhus University

Nathan G. Swenson

Michigan State University Museum

Hans ter Steege

Universiteit Utrecht

Barbara Thiers

New York Botanical Garden

Cyrille Violle

University of Arizona

Corine Vriesendorp

Field Museum

Susan K. Wiser

Landcare Research
Products
Presentations

/

2013

Assembly of plant communities in climate space

Journal Article

/

2014

Separating macroecological pattern and process: Comparing ecological, economic, and geological Systems

Journal Article

/

2015

Linking environmental filtering and disequilibrium to biogeography with a community climate framework

Journal Article

/

2013

The taxonomic name resolution service: An online tool for automated standardization of plant names

Journal Article

/

2015

A comparative framework for broad-scale plot-based vegetation classification

Journal Article

/

2016

Megafauna extinction, tree species range reduction, and carbon storage in Amazonian forests

Journal Article

/

2015

Limited sampling hampers "big data" estimation of species richness in a tropical biodiversity hotspot

Journal Article

/

2016

Patterns and drivers of plant functional group dominance across the Western Hemisphere: A macroecological re-assessment based on a massive botanical dataset

Report or White Paper

/

2016

Cyberinfrastructure for an integrated botanical information network to investigate the ecological impacts of global climate change on plant biodiversity

Journal Article

/

2021

How deregulation, drought and increasing fire impact Amazonian biodiversity

Journal Article

/

2015

How a national vegetation classification can help ecological research and management

Journal Article

/

2016

Plant-O-Matic: A dynamic and mobile guide to all plants of the Americas

Journal Article

/

2015

Intercontinental comparisons of habitat levels of invasion between temperate North America and Europe

Journal Article

/

2014

Functional trait space and the latitudinal diversity gradient

Journal Article

/

2017

The bien r package: A tool to access the Botanical Information and Ecology Network (BIEN) database

Journal Article

/

2019

Temperature shapes opposing latitudinal gradients of plant taxonomic and phylogenetic B diversity

Journal Article

/

2019

Temperature shapes opposing latitudinal gradients of plant taxonomic and phylogenetic β diversity

Journal Article

/

2013

Habitat area and climate stability determine geographical variation in plant species range sizes

Journal Article

/

2016

A network approach for inferring species associations from co-occurrence data

Journal Article

/

2021

The adaptive challenge of extreme conditions shapes evolutionary diversity of plant assemblages at continental scales

Journal Article

/

2015

Scale-dependent responses of longleaf pine vegetation to fire frequency and environmental context across two decades

Journal Article

/

2012

VegBank - a permanent, open-access archive for vegetation-plot data

Journal Article

/

2015

Shifts in trait means and variances in North American tree assemblages: Species richness patterns are loosely related to the functional space

Journal Article

/

2018

Spatial patterns and climate relationships of major plant traits in the New World differ between woody and herbaceous species

Journal Article

/

2019

The relationship of woody plant size and leaf nutrient content to large-scale productivity for forests across the Americas

Journal Article

/

2014

The emergence and promise of functional biogeography

Journal Article

/

2011

Veg-X - An exchange standard for plot-based vegetation data