NCEAS Working Groups
Fungal pathogens and disease-induced extinction: Are fungal diseases different?
Project Description
Fungal pathogens have not traditionally been considered highly lethal. However, many newly discovered fungal diseases are threatening wild and domestic animals, agriculturally important crops, and human health. Two particularly striking examples of deadly fungal pathogens are Batrachochytrium dendrobatidis ("Bd"), which causes disease in amphibians and Geomyces destructans ("Gd"), which infects and kills bats. These two different pathogens have surprisingly similar disease characteristics; they emerged relatively recently, spread rapidly though frog and bat populations and caused devastating declines and even extinction events. It is unclear, however, exactly how these pathogens operate and cause devastating die-offs. Our working group will bring together amphibian and bat researchers, epidemiologists and theoretical modelers to investigate the mechanisms of fungal pathogens in wildlife populations. We will consider how fungal pathogens might differ from other well-studied infectious agents such as bacteria and viruses. We will also address the wildlife conservation problems associated with newly emerging fungal pathogens, and make recommendations for research and mitigation efforts in rapidly declining wildlife populations. Understanding fungal pathogen biology could provide important information for studying fungal epidemics in diverse host organisms, including plants, other wildlife populations and in humans as well.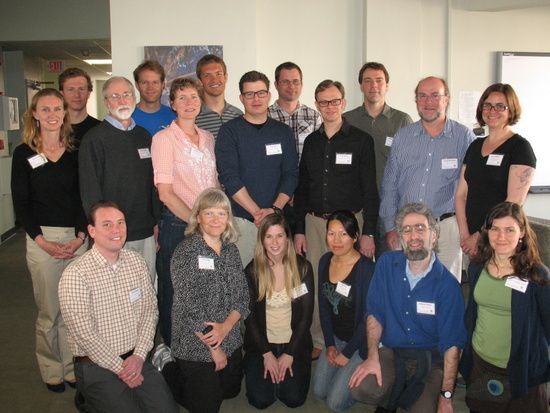 Principal Investigator(s)
Jamie Voyles, Cheryl J. Briggs, Auston M. Kilpatrick
Project Dates
Start: March 1, 2013
End: April 30, 2013
completed
Participants
David Blehert

US Geological Survey (USGS)

Benjamin Bolker

McMaster University

Cheryl J. Briggs

University of California, Santa Barbara

Tina Cheng

University of California, Santa Cruz

James P. Collins

Arizona State University

Matthew Fisher

Imperial College, London, St Mary's Campus

Winifred F. Frick

University of California, Santa Cruz

Auston M. Kilpatrick

University of California, Santa Cruz

Aaron A. King

University of Michigan

Kate Langwig

Boston University

Daniel L. Lindner

USDA Forest Service

Hamish McCallum

Griffith University

Jessica Metcalf

University of Oxford

Kris Murray

EcoHealth Alliance

Robert Puschendorf

James Cook University

Erica Bree Rosenblum

University of California, Berkeley

Mary Toothman

University of California, Santa Barbara

Jamie Voyles

New Mexico Institute of Mining and Technology

Mark Wilber

University of California, Santa Barbara

Craig Willis

University of Winnipeg
Products
Journal Article

/

2015

Context-dependent conservation responses to emerging wildlife diseases

Journal Article

/

2015

Moving beyond too little, too late: Managing emerging infectious diseases requires coordinated, international action