News & Features
From data to action: announcing the Western Wildfire Resilience Index
Modeled after the success of the Ocean Health Index, the WWRI will provide the first holistic quantitative metric of wildfire resilience in the North American West.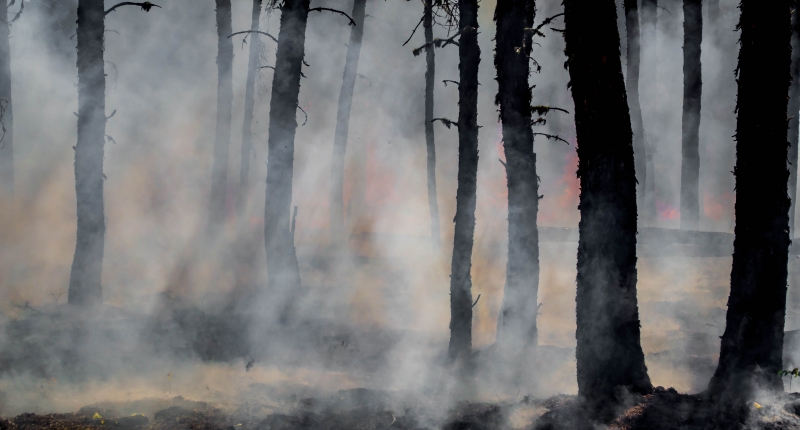 Wildfires are increasingly severe and frequent in the American and Canadian West, resulting in devastating consequences to nature, people, and economies. In light of this escalating threat, there is an urgent demand for data-driven management strategies. Supported by the Gordon and Betty Moore Foundation, NCEAS is eager to launch the new Western Wildfire Resilience Index (WWRI). As the first quantitative and holistic indicator of wildfire resilience, the WWRI will significantly enhance decision making, improving the management and well-being of ecosystems and communities. 
Wildfire resilience refers to an ecosystem's ability to react to changes, either gradual or abrupt, by absorbing disturbances or adapting. Using this definition, groups like the Tahoe Central Sierra Initiative (TCSI) have developed a series of social and environmental metrics to track resilience, from air quality to community well-being to carbon sequestration. Building from this framework, the WWRI will refine the set of goals and values used to measure community resilience and assess and map these values to existing information and highlight where data is still needed. To better inform local, state, and federal policymakers alike, the WWRI assessments will be mapped from the county to regional scale across the entire American and Canadian West. 
On the motivations for creating the WWRI, Director Ben Halpern noted: "The public and policy makers need clear, transparent and meaningful metrics of complex systems to be able to make scientifically-informed decisions about how to manage for sustainability." In other words, Halpern commented, "You can't manage what you don't measure. Measurement alone won't guarantee good policy, but bad policy is an almost certainty without measurement."
Taking abstract and disparate data and translating it into concrete management tools is familiar practice for NCEAS. The WWRI is built off the ten year track record of the Ocean Health Index (OHI), which provides yearly scores of marine vital signs to inform management around the world. Like the OHI, the WWRI will also allow scores and metrics to be seen on a map at different scales, breaking down complex social, ecological, and economic factors for regional decision makers. Importantly, these indices are coupled with effective communication and outreach plans by a larger team. 
On applying this model to the WWRI, OHI project scientist Gage Clawson expressed his excitement at NCEAS tackling wildfire resilience: "One of the really cool things about OHI is that it takes a bunch of messy data and processes it into easily digestible scores. Each year, these scores provide new insights and help to improve the way that we manage our oceans. Applying a similar framework to wildfires will provide much needed information on how we can effectively interact with and manage this ecological threat."
NCEAS  embraces a team science approach to tackling the complexity of ecological problems like wildfire resilience. Recognizing the multidisciplinary nature of this challenge, the WWRI team is seeking seven dedicated individuals for key positions including two postdoctoral researchers, two data analysts, a web developer, a science communicator, and a project manager. You can see more information about these positions, including expected salaries and application details on our employment page. 
This interdisciplinary collaboration in the WWRI will help produce outputs that are scientifically rigorous, accessible, and applicable to land managers, policymakers, and communities. Through this new initiative, NCEAS hopes to help address the escalating threat of wildfires in the American and Canadian West. 
Written by NCEAS Science Communication and Policy Officer Alexandra A Phillips