News & Features
Broadening Horizons through Environmental Data Science
A Letter from the Director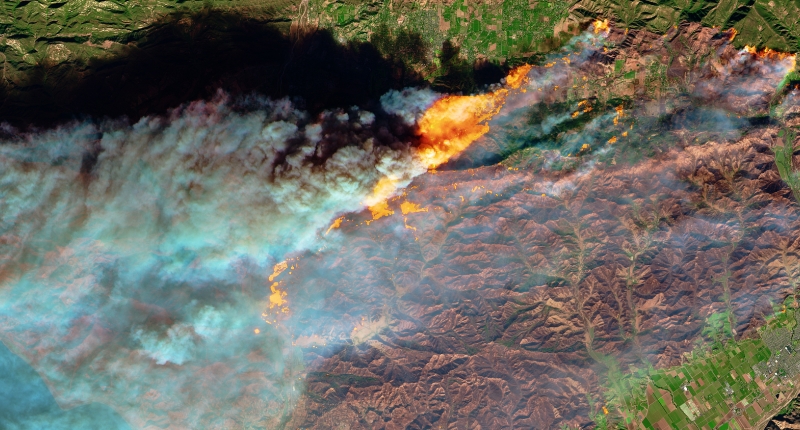 Dear friends,
Last month, the largest fire in California history ripped through the mountains surrounding Santa Barbara, home to NCEAS, forcing wide-scale evacuations and upending communities. During the weeks of the fire, I closely tracked its progress and the efforts to fight it. Real-time information from heat-sensing satellites, high-resolution wind forecasts, and air quality monitors, combined with maps of historical burns and forest fuel loads, not only helped residents like me understand what was happening, but also fed fire behavior models with data that allowed firefighters to strategically deploy resources to slow and ultimately stop the fire. While a frightening time, it was amazing to see how we can use and synthesize environmental data in real time to make a huge difference in people's lives.
At the core of this story is environmental data science, a field that serves to improve the analysis and synthesis of diverse and often vast amounts of data to address environmental challenges. With expanding amounts of environmental data at our finger tips, data science is critical to harvesting insights from them that can inform decision-making. Yet, still a nascent field, environmental data science needs advocates and cultivators to mature as a discipline.
NCEAS has long played a central role in the field's development and deployment, and we strive to build a community of scientists who are skilled in it. In fact, advancing environmental data science and training generations of scientists in its best practices are central to our mission.
In 2017, we advanced our mission in several key ways. We supported multiple synthesis research projects for our major initiatives, such as the Science for Nature and People Partnership (SNAPP), the State of Alaska Salmon and People (SASAP) and the Ocean Health Index (OHI), and for existing research networks, such as the Long-Term Ecological Research Network and Arctic Data Center. Here is just a handful of the many accomplishments from these efforts:
One SNAPP working group developed and launched a new tool to improve our ability to make evidence-based conservation decisions: an open-access, machine-learning application called Colandr that allows practitioners and decision-makers to sift through scientific data faster than ever before.
Our Ocean Health Index team shared their experience with accelerated discovery and enhanced reproducibility through open science in a paper published in Nature Ecology and Evolution, contributing to an important and growing conversation.
Our Data Task Force has helped improve the productivity of SASAP researchers by taking on the big task of collecting and standardizing large datasets that cover various aspects of salmon ecology and culture in Alaska, serving as a tangible example of the innovation and support NCEAS can offer.
We also hosted several boot-camp-style trainings over the summer, including one that helped Gulf of Mexico researchers better analyze the troves of data collected with restitution funds from the Deepwater Horizon oil spill. And we significantly expanded our internship program, bringing in dozens of interns that supported various data science and synthesis initiatives.
In the year ahead, we have a range of active and new working groups and synthesis projects that will keep our halls buzzing. We will also be expanding our work to infuse environmental science with data science and open science practices and tools. We are working to significantly expand our training opportunities, and are ironing out the remaining details for a new Master's degree in environmental data science to be offered at UC Santa Barbara.
NCEAS continues to thrive, and I am excited for what is in store. To keep abreast of our latest activities and opportunities, sign up for our newsletter and follow us on Twitter and Facebook.
I wish everyone a happy and healthy 2018 and look forward to the chance to welcome you at NCEAS.
Sincerely,


Ben Halpern, Executive Director