Ocean Health Index
To sustain the things we value about oceans, we must measure them.
People depend on healthy oceans. They give us food, livelihoods, protection from natural disasters, recreational opportunities, a spiritual connection, and many other benefits.
But how healthy are our oceans? The Ocean Health Index is a tool to measure that.
A collaborative initiative of NCEAS and Conservation International, the Ocean Health Index (OHI) is a comprehensive framework for evaluating the conditions of many things people value about oceans. By synthesizing data into concrete scores, the framework equips managers and policymakers with meaningful "vital signs" that can help them manage oceans sustainably.
The framework can be applied at global, regional, and national scales, enabling tailored assessments with relevant results.    
Since 2012, our scientists have done annual global assessments to develop a health record for the world's oceans. We also support independent groups in conducting their own regional assessments by providing consultation, training, and tools through OHI+.
Learn more about the framework and how it can inform ocean management.

More

Access resources for conducting an independent ocean health assessment.

More
What we measure
The Ocean Health Index measures the conditions of a suite of benefits, or goals, that support human well-being and sustainable marine ecosystems.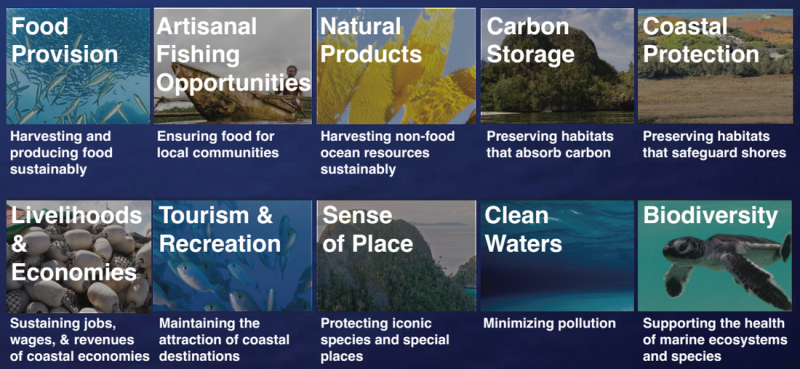 The best available science
The Ocean Health Index is designed to inform ocean management using the best available data, methods, and analytical tools. Our scientists accomplish this by following best practices in open science and data science, including making their data freely available. 
Additionally, OHI scientists help foster the movement toward open science and build capacity in data science by training ocean scientists in associated methods and tools and providing resources on best practices. 
Learn more about how this approach has helped them to do better science in less time.