News & Features
Seminar Series: Advancing Ecology and Environmental Data Science for a More Just and Equitable Future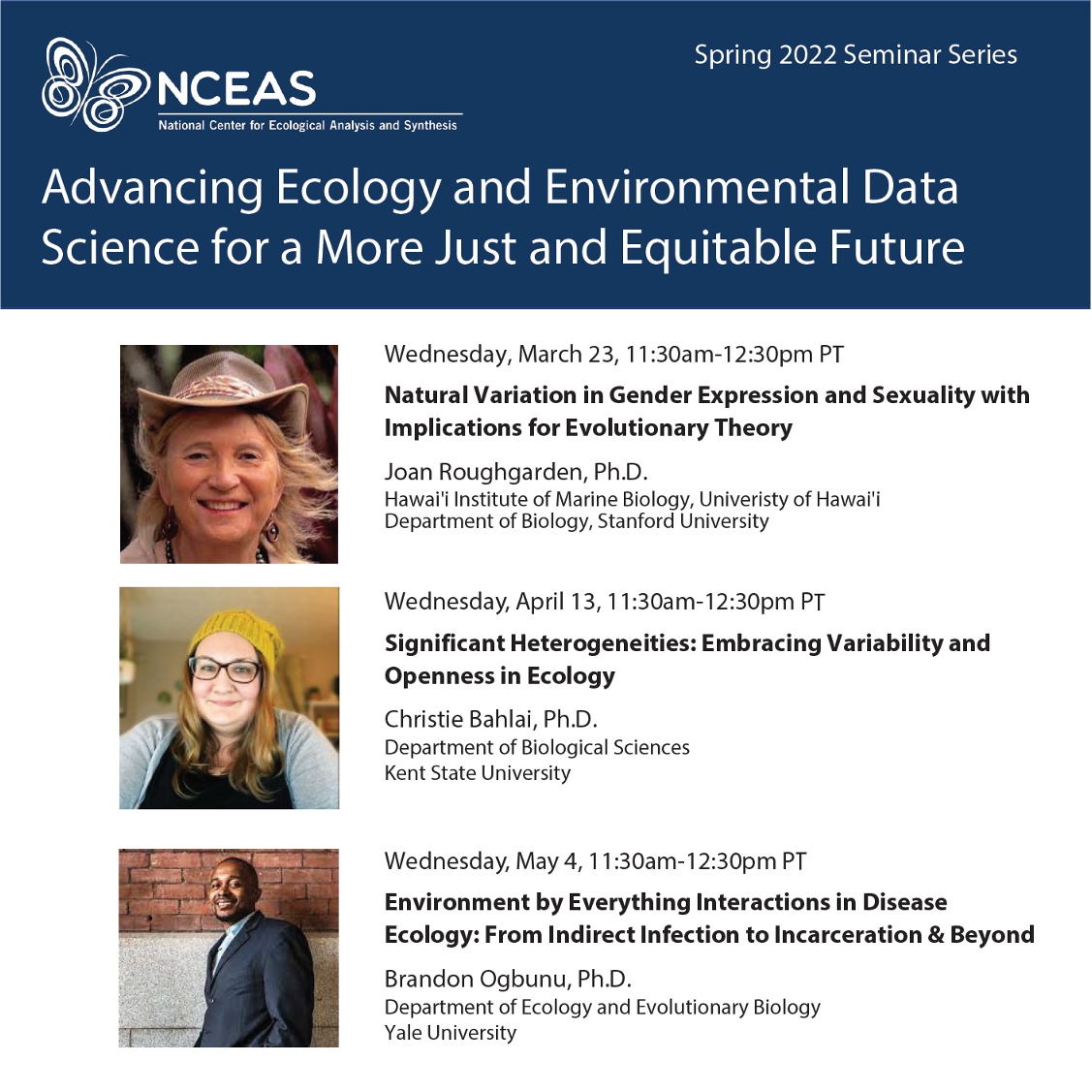 Join us for our Spring 2022 Seminar Series
This seminar series is motivated by conversations about how we at NCEAS can foster diversity and inclusion within our scientific community, while also designing research questions and approaches to promote environmental justice and equity across our broader community. The speakers will share their research approaches and findings as they relate to the intersections of ecology, environmental data science, equity, and environmental justice.
Learn more about each individual event below.
Wednesday, March 23, 11:30am-12:30pm PDT
Natural Variation in Gender Expression and Sexuality with Implications for Evolutionary Theory
Joan Roughgarden, Ph.D.
Watch a recording of Dr. Roughgarden's talk.
Abstract: The discovery among animals of extensive variation in gender expression and sexuality refutes a supposition that the gender binary is universal and that homosexuality is rare. In humans too, variation in gender expression and sexual orientation occurs in all cultures and through history. This variation challenges traditional biological explanations of animal behavior, especially explanations that trace to Darwin's theory of sexual selection. Even today, the very definition of sexual selection remains contested. The definition developed in a 2015 NESCent workshop will be contrasted with a 2021 definition proposed by Shuker and Kvarnemo.
Wednesday, April 13, 11:30am-12:30pm PDT
Significant heterogeneities: Embracing Variability and Openness in Ecology
Christie Bahlai, Ph.D.
Watch a recording of Dr. Bahlai's talk.
Abstract: Ecology has undergone several major cultural shifts in the past century. Eager to define the field as a 'hard' science, early 20th century ecologists established the field's theory, often working in relative isolation. The environmental movement of the latter 20th century redefined ecology in terms of connectivity and scale, fostering collaborations and infrastructure. Now, open data and synthetic approaches create opportunities to incorporate diverse perspectives, data, and engagement in data-intensive ecology. However, simply sharing data cannot overcome a century of ecologists working in siloes, and the expectations that creates for what the science "should look like." Building a more inclusive ecology requires a critical examination of the structures imposed in our field's early approaches. The data we collect is filtered not just through the environments we collect it in, but the identity, positionality, and constructs of the practitioners. In this talk, I will explore how ecology has shifted from a 'lone wolf' science to a distributed, collectivist endeavor, and how technology and culture intersect to shape both scientific approaches and career paths.
Wednesday, May 4, 11:30am-12:30pm PDT
Environment by Everything Interactions in Disease Ecology: From Indirect Infection to Incarceration, and Beyond
Brandon Ogbunu, Ph.D.
Watch a recording of Dr. Ogbunu's talk.
Abstract: In this seminar, I introduce the concept of "environment by everything interactions," which considers the many ways that context underlies biological and social maladies. Case examples drive the discussion, ranging from viral disease emergence, to opioid use disorder, and mass incarceration.
All talks will be live-captioned using Zoom AI captioning. Talks will also be recorded and posted to the NCEAS YouTube Channel, where seminar talks from our 2021 series are also available.
For questions, please contact Courtney Scarborough at scarborough@nceas.ucsb.edu.