Writer Emily Vizzo to Connect People and Science through Language
NCEAS Portraits: 2018 Artists in Residence
By Tia Kordell and Jenny Seifert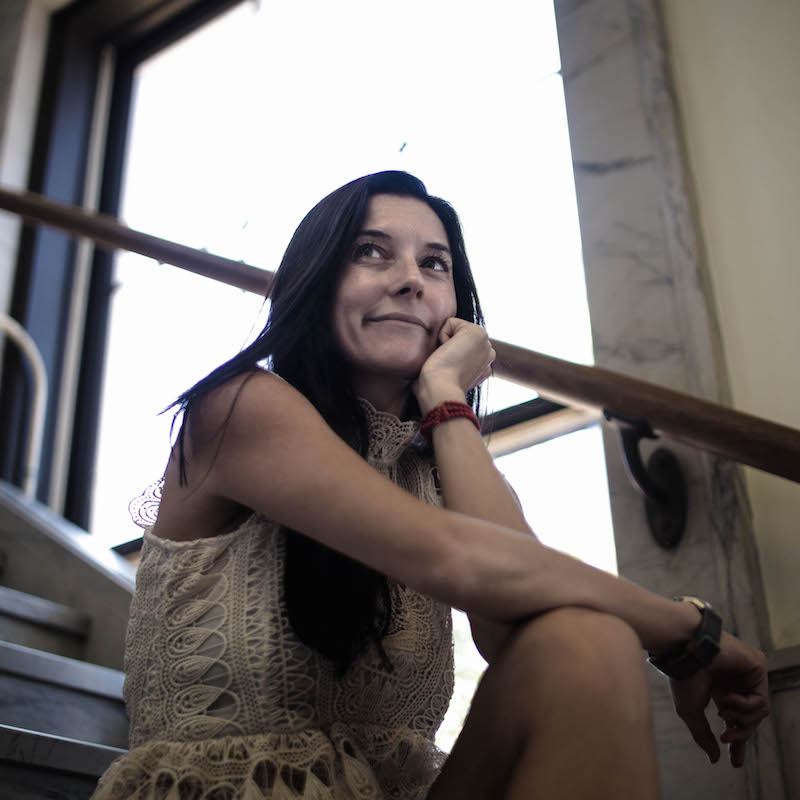 It is not unusual for research questions and ideas to be sprawled across white boards after a brainstorming session by an NCEAS working group. But for writer Emily Vizzo, it was a captivating sight to behold on her first day in the office as an artist in residence.
"Representations of language bring the outside world to something as basic as a white board. The results of the conversation then go back out into the world to impact communities and landscapes," she said. "It's like magic."
Like a scientist, Vizzo uses the power of language to bring experiences and ideas to life in her writing. She takes joy in exploring an idea and "digging into a question" that really interests her.
"I believe it is important to not fall asleep on your life. Being observant and using language to ask questions about the world around me is how I try to stay awake," she said.
Vizzo has always been a writer, and her work has taken different forms over the years. She began her career as a political journalist, studying political science at UC San Diego and then writing for the Ventura County Star, Los Angeles Times, San Diego Union-Tribune, and Scripps Howard News Service. However, she realized that wasn't the path for her and then experimented with writing for magazines and websites. She eventually hit her mark with poetry and essays, which allow her to maintain her journalistic curiosity while also giving her space to insert her own perspective.
Life has offered Vizzo two big moments for her writing recently. First, YesYes Books selected her collection of poetry called GIANTESS for publication this fall – her first published book!
Second, after living in San Diego for nearly two decades, she moved to Santa Barbara, a sort of homecoming for the Ventura native. She is here to do research for a new book that is set in the area – as a fictional novel, it is a departure from her typical writing, and she wants to make sure she's getting it "right."
The other reason she's in Santa Barbara is to observe NCEAS scientists in action. Their use of language – both their words and data – will serve as fodder for her writing projects.
"There are stories happening within science that may not be accessible to some people for whatever reason," she said. "If I can find the story – especially when it's within scientifically complex topics – engage with it, and filter it through my story and my life, connections can be made." 
The result of her residency will be a suite of poems centered on topics, experiences, and conversations related to her time at NCEAS. She has also completed a short story featuring a fictional data scientist named Aida who becomes a Scientist in Residence at a music conservatory.
To get a taste of her NCEAS-inspired work, here's an excerpt from a poem in progress called "Alone with a Black Bicycle," a title alluding to a bicycle parked inside her NCEAS office one day:
Rumsfeld said you go to war with the army
You have, scud missiles and pickups, the Mola Mola
Deep diving with its fishy memory of tuna
And trout. I've always weakened for beautiful fish,
Photographed them in a veil of blood at the bottom
Of an ice box, mapping my own helical
Ecology of fear. Maybe I do this because sorrow is a
Faith, or because I am not proximal to goats and rabbits.
Residua, the living world: I want it.
My students take interest in bombs and airplanes,
Raw data spinning away from fish toward risk. We use
Pencils to draw wings and stingers,
The cross-section of a limpet. Up close no sea is romantic,
But I starve for it. An anemone soft as flowers,
Flush with stinging poisons.
Learn more about Vizzo's work >>