News & Features
New Website Offers Guidance on Managing a Changing Ocean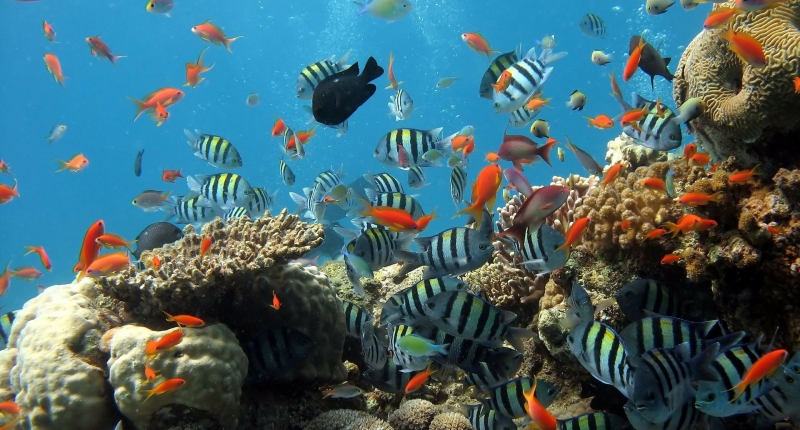 Through small shifts in human pressure or environmental conditions, tipping points bring about large, sometimes abrupt changes in a natural system. From collapsed fisheries and coastal dead zones, to melting sea ice and dying coral reefs, the detrimental consequences of tipping points are well known, yet practical tools for coping with them have been limited.
To address this challenge, researchers from the Ocean Tipping Points project recently launched a new online portal that provides concrete analytical tools and resources to help ocean managers predict, prevent and even recover from tipping points and keep ecosystems healthy and resilient.
"The purpose of the website is to make those resources easily accessible to managers, with practical recommendations and lots of examples from our work and others' around the world," said Carrie Kappel, Ocean Tipping Points lead principal investigator and a senior fellow at NCEAS.
The portal distills five years' worth of research from the Ocean Tipping Points team and reflects the expertise of natural and social scientists, law and policy experts, resource managers, communicators and educators. It includes a toolbox of tested approaches for managing ecosystems prone to tipping points.
"Ocean tipping points are cause for concern because they are hard to anticipate and can be very difficult to reverse," said Kappel. "For managers of marine ecosystems, an understanding of tipping points is critical because they change the rules of the game."
Through the portal, managers can learn how to identify the relevant or high priority thresholds in their respective systems, when they are approaching those tipping points, and how quickly they will have to take action to avoid crossing them.
"We think there's a lot of potential for tipping points ideas and scientific methods to be directly applied across many different management contexts, and our hope is that the website helps narrow the gap so that practitioners feel they can make the leap from the research and theory to new management actions," said Kappel.
According to Kappel, the transdisciplinary collaboration upon which the project was based was key to producing a tool that offers value to ocean managers.
"Ocean Tipping Points is deeply grounded in the NCEAS synthesis science model, relying on compilation and analysis of existing data by collaborative working groups," said Kappel. "It has challenged us to pursue questions and methods that are really at the intersection of ecosystem dynamics and human well-being, and to ground them in the context of real world decision making."