Annual DEIJ Seminar Series
Advancing Ecology and Environmental Data Science for a More Just and Equitable Future
Since 2021, NCEAS has hosted our annual Environmental Data Science seminar. The series, which is recorded and open to the public, typically features three speakers who share their research approaches and findings as they relate to the intersections of ecology, environmental data science, equity, and environmental justice. This seminar series was motivated by conversations about how we at NCEAS can foster diversity and inclusion within our scientific community, while also designing research questions and approaches to promote environmental justice and equity across our broader community.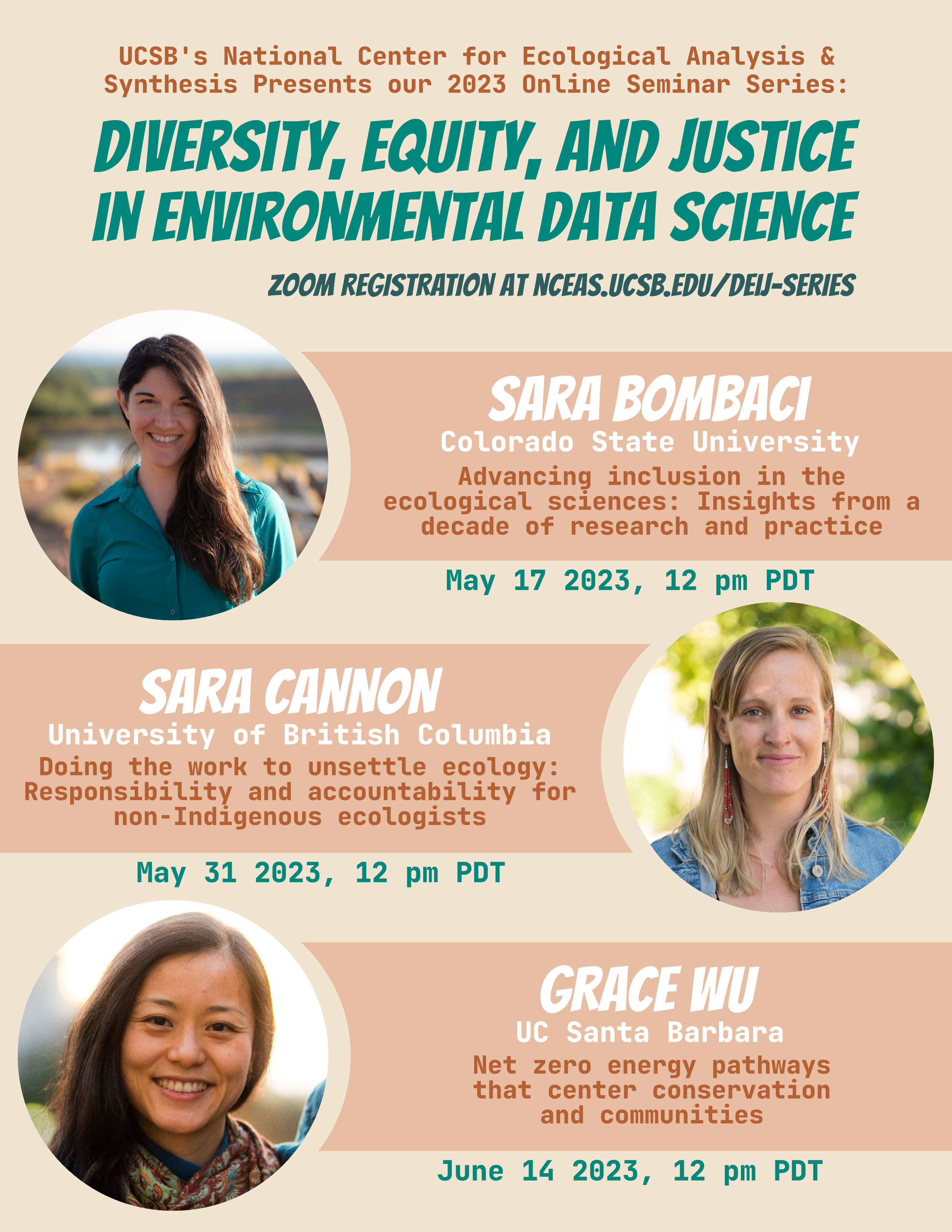 2023 Seminar Series Details
Register for the zoom webinar here. Talk and speaker information below:
Advancing inclusion in the ecological sciences: Insights from a decade of research and practice
A diversity of knowledge, experiences, and identities is essential for academic and scientific excellence. Yet, many factors limit certain groups from participating in the scientific enterprise and addressing such barriers to the inclusion of diverse voices has become a priority across ecology, and the sciences more broadly. Here I share my team's growing body of research on advancing justice, equity, diversity, and inclusion in ecology and STEM, and discuss how our findings can be used to advocate for transformative and equitable change.
About the speaker: Dr. Bombaci conducts research in both conservation biology and social justice, and at the intersection of these two themes. Her multidisciplinary research blends conservation science and social science to explore how ecological systems interact with social and environmental gradients in pursuit of innovative solutions to conserve biodiversity while meeting diverse human needs. Her work aims to advance conservation science and practice globally, from urban environments in the United States, to the rainforests of New Zealand, and wildlife reserves across Africa. Dr. Bombaci also prioritizes advancing diversity and inclusion in STEM education, and has over a decade of experience conducting research, teaching, and outreach to foster greater equity and inclusion in academia.
Register for the zoom webinar here. Talk and speaker information below:
Doing the work to unsettle ecology: Responsibility and accountability for non-Indigenous ecologists
Western-trained scientists are increasingly recognizing the ways that the ecological sciences can and often do reproduce the imperial and colonial roots of the discipline. Several recent publications have called for the decolonization, Indigenization, or unsettling of ecology and its related fields, but these articles have tended to focus on preliminary or individual steps that, on their own, will not be enough to shift power from university-affiliated researchers to Indigenous Peoples. However, shifts in power are an obligatory component of any attempts to unsettle academic disciplines. In this talk, Dr. Cannon will argue that non-Indigenous scientists, who benefit from settler colonialism, have a responsibility to do the work necessary to unsettle ecology, including shifting the balance of power within academia. Meeting this responsibility requires that non-Indigenous ecologists make themselves accountable to Indigenous scholars and knowledge-holders in all aspects of their work. Drawing from over a decade of experience, Dr. Cannon will reflect on what she has learned through Indigenous partnerships and associated research practices and the mistakes she has made along the way. She will also share how these experiences have affected the ways she navigates academia as a settler ecologist who carries responsibilities to the traditional stewards of the lands and waters upon which she lives and works.
About the speaker: Sara Cannon is a postdoctoral fellow in the Centre for Indigenous Fisheries, housed within the Institute for the Oceans and Fisheries at the University of British Columbia. She is a third-generation settler of Irish and Croatian descent who grew up on traditional Piscataway territory along the Chesapeake Bay in southern Maryland, USA. Before moving to Canada to pursue her graduate studies, Sara earned her B.Sc. in Marine Biology from the University of California, Santa Cruz. She received her MSc and PhD from the University of British Columbia's Department of Geography, where she studied the cumulative and interactive effects of climate change and local human-related threats to coral reefs in the Gilbert Islands of Kiribati and the Republic of the Marshall Islands, both atoll nations in the central Pacific. Sara is passionate about producing actionable research that is directed by and centers the needs and voices of Indigenous peoples. As a postdoc, Sara partners with the Tsilhqot'in First Nations to support the Fisheries Department's ongoing stewardship of Fraser River sockeye and Chinook salmon, supervised by Dr. Andrea Reid.
Register for the zoom webinar here. Talk and speaker information below:
Net zero energy pathways that center conservation and communities
About the speaker: Grace Wu is an Assistant Professor in the Environmental Studies Program at UC Santa Barbara. Before joining UCSB, Grace was a Smith Conservation Fellow at The Nature Conservancy and the National Center for Ecological Analysis and Synthesis. She was also a UC President's Postdoctoral Fellow at the John Muir Institute of the Environment at UC Davis. She was trained in systems thinking and interdisciplinary approaches in the Energy and Resources Group at UC Berkeley. Grace is interested in the dynamics and drivers of land use change, climate change mitigation, and advancing our ability to plan for sustainable, multi-use landscapes that protect biodiversity and advance climate goals. She uses spatial science approaches to identify and understand the co-benefits and trade-offs between climate solutions and habitat conservation. Her current main research areas are (1) sustainable spatial planning of low carbon energy systems; and (2) designing policy, management, and technology pathways to sustainable land systems.
Read and watch our 2021 seminar series, which featured Gillian Bowser, Christopher Schell, and Lydia Jennings.

Read and watch our 2022 seminar series, which featured Joan Roughgarden, Christie Bahlai, and Brandon Ogbunu.

Read more about our invited 2023 seminar speakers: Sara Bombaci, Sara Cannon, and Grace Wu.