News & Features
The Master of Environmental Data Science Program Makes Its Maiden Voyage with Its First Cohort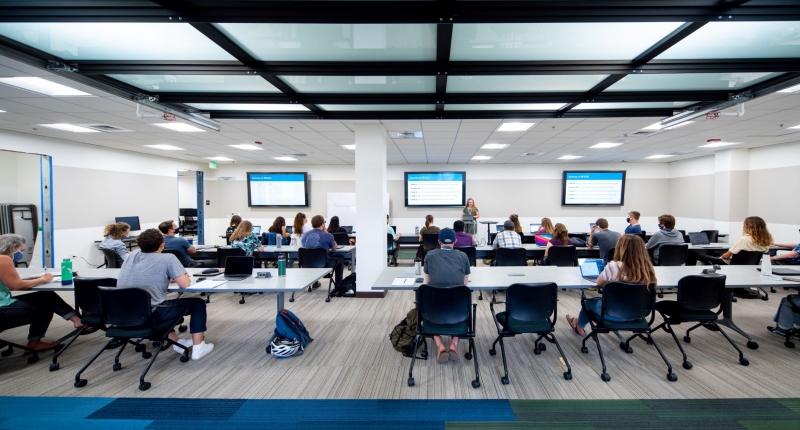 As technological advancements make environmental scientists richer and richer with data, many of these professionals are finding themselves in a predicament: their abilities to use and share the data aren't up to speed.
Helping to fill this skills gap is the newly launched Master of Environmental Data Science (MEDS) program, a partnership between NCEAS and UC Santa Barbara's Bren School for Environmental Science & Management. The program's first cohort started this August.
"There are folks currently in the environmental field that didn't get the quantitative training in either their undergraduate or graduate programs. Whether they're two or ten years into the workforce, they're realizing they're hitting a wall," said Jamie Montgomery, MEDS Academic Coordinator.
The program is designed specifically for professionals at all levels who already have an environmental science background, whether via a degree or professional experience, but are looking to gain data science skills. Montgomery says the first cohort has been in the workforce a median of 2.5 years.
An eleven-month, full-time professional degree program, MEDS starts with an intensive six-week summer session that moves students through five courses and twelve credits to get them up and running with skills like programming, reproducible analysis, and data management.
This intensive session also helps jumpstart relationship-building among the cohort, which is important because the program is focused on collaboration and team science.
Students then complete an additional 12 core courses during the normal school year and have the opportunity to apply what they're learning through capstone group projects. Working in small teams, the students collaborate with real-world "clients" – such as a researcher, government agency, non-profit, or company – to address a real-life need and produce a professional environmental data science product.
An aspect of the program that is particularly exciting to Montgomery is its emphasis on professional development. For example, by the end of the first week of the intensive session, students start developing their own personal website to showcase the data science portfolio they build throughout the course of the program.
"To get hired as a data scientist now, it's so important to have your own brand," said Montgomery.
Students are also integrated with the NCEAS community. They take half of their courses at NCEAS in a space in our new building designed specifically for the program, NCEAS data scientists teach several of the courses, and Montgomery is scheming ways the students can participate further, such as potential fellowship opportunities.
"For students to have the opportunity to actually engage with environmental data scientists at NCEAS, it will help broaden their perspective to what environmental data science is and what it can be used for," said Montgomery.
More than anything, Montgomery is excited to see where the first cohort of MEDS students go after graduation.
"I've been watching the environmental data science job market bubble up across multiple sectors," said Montgomery, noting that even the toy company Lego has hired an environmental data scientist. "Even though we've been working with data for a long time, finally people are finding opportunities to hire for those roles."
If you are interested in becoming either a student or capstone-project client, contact Montgomery at jmontgomery@bren.ucsb.edu.
If you're ready to apply, learn how here and contact admissions directly for more information. Applications to be part of the second cohort are due December 1, 2021.
If you are interested in sponsoring a student, contact Sarah Sikich at sarahsikich@ucsb.edu.